Hi! I'm Vickie Gray, potter at Old Barn Pottery (link to location map).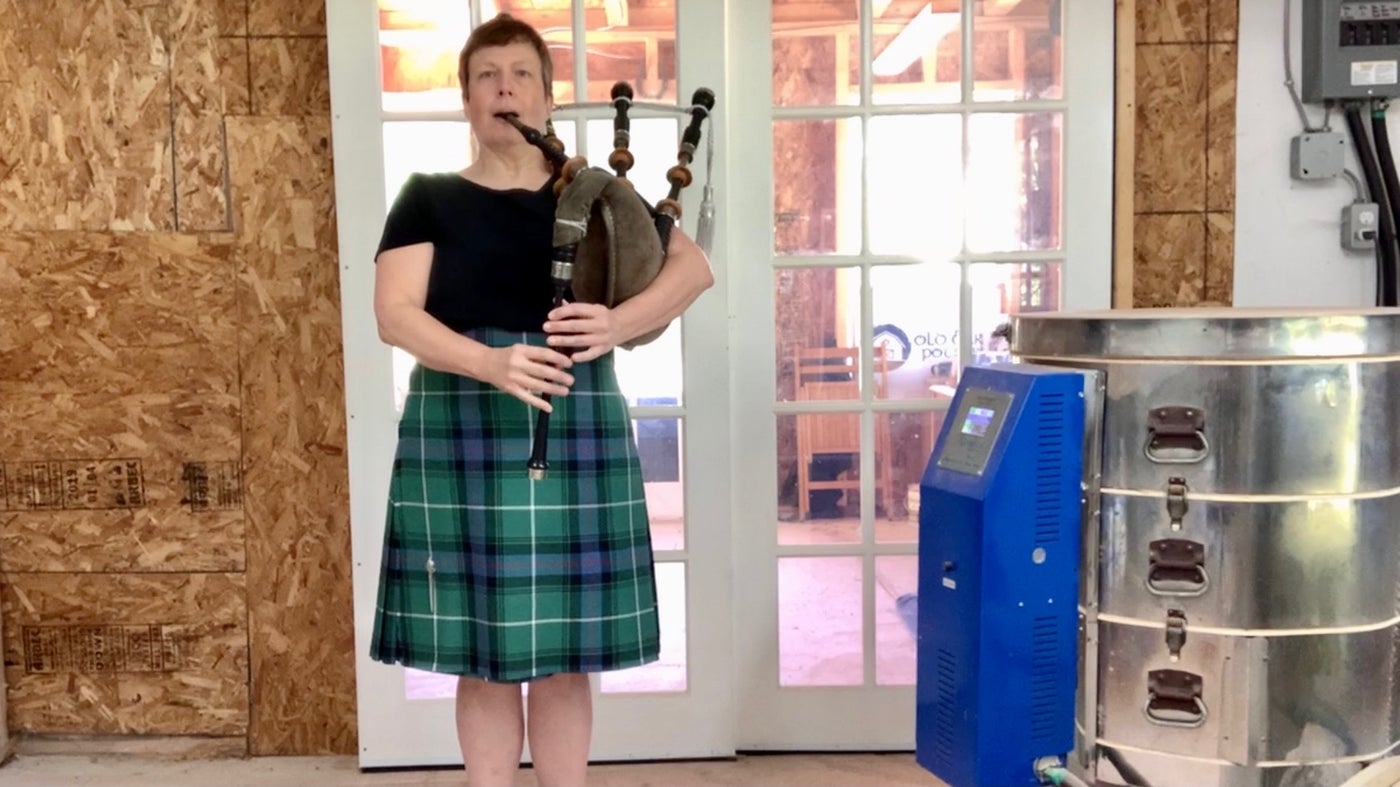 I've been a potter and musician for many years and am lucky to have the chance to combine my two passions in clay. I love practical things that are also beautiful, so as well as experimenting with functional and durable glazes, I include details that reflect our musical, maritime home. Blues, white, yellow and natural clay pieces may include musical details like details of sheet music, or instrument names. Black, deep iron red, and green pieces are meant to reflect our natural surroundings.
When our customers ask for something special – perhaps a name or icon stamped in the clay – I am delighted to oblige. Sometimes these shapes and styles become standard offerings. Similarly, we are often asked to create unique pieces with logos for local shops, and for special occasions like weddings, annual trips, and other celebrations.
Each piece is individually handmade, so no two pieces are exactly the same. I work on a potter's wheel to make our pottery rather than using a mold, and I pull every handle by hand rather than using an extruder. I design and mix our glazes in our studio, and strive for both an attractive finish, and something that can be used every day. In fact, I'm so serious about durability and function that our own kitchen is full of our pottery that we use daily.
I am lucky to have the support and help of my amazing sweetheart, Paul. He handles things like this on-line shop, shipping packages, etc. so I can focus on making pots. We live on a small heritage farm just 10 minutes outside Lunenburg, a UNESCO world heritage site, in Nova Scotia, Canada. The Pottery Studio is in our old barn, built sometime in the 1960s on the site of the original livestock barn erected by the settlers on this property in the late 1800s. We acknowledge that we are in Mi'kma'ki, which is the traditional ancestral and unceded territory of the Mi'kmaq people.
I'm really happy to be able to honour music and musicians with my work, and to bring beautiful, functional pottery to your table every day.